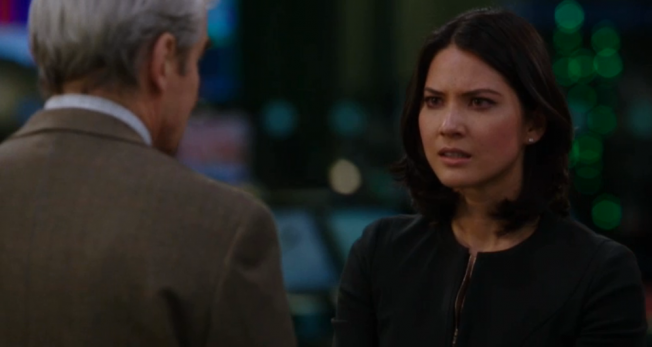 Well hello there. It is I, Bethany. Molly had to run away to do something awesome this week, so y'all get to deal with ME and my recapping madness instead of hers.
(Not that her recaps are madness. They are not.)
So while you're sitting there pining for Molly, there are a couple things you should know about me and my Newsroom watching:
1. I like this show a whole bunch. Like, an unapologetic amount. I feel like part of this is because Sorkin is an alum from my grad school, and part of it is because I sort of over-identify with Alison Pill's character.
2. I might be in love with John Gallgher Jr.
So now that everything is on the table, I feel like we can get on with this. Cool? Cool.
Tonight's episode of The Newsroom, titled "Bullies," brings us up to April 11th and 12th, 2011, aka the beginning of the Fukushima Nuclear Reactor Meltdown. It also made us delve way deeper into who Will is, as the entire episode is told from flashbacks as Will talks to a therapist, played by David Krumholtz, who is the guy from 10 Things I Hate About You (the movie) who ended up with a dick drawn on his face. Aaaaand the show  acknowledged that it knows that it's misogynistic, but didn't do much to try and fix that. I can't decide if that's better or worse.
Will in Therapy
So this is a little circuitous. Will has had a standing therapy appointment with a Dr. Habibe every week for four years. He does not *go* to these appointments—well, he used to, but now he doesn't—but he has the appointments. After a night wherein Will stumbled over his words on live television, saying things like "Thank you for washing us," and "I'm Terry Mc…that isn't true," Mac forces him to go to his appointment after he tells her he hasn't been sleeping. At all.
Accompanying Will to this appointment, which ends up being with the son of the therapist he had been seeing four years ago due to the fact that the therapist Will had previously gotten to know had died, is Lionel the Awesome Body Guard Who Needs to Stay FOREVER, who has been assigned to Will because Will received a death threat in the comments section of his blog.
Yeahhhhhh.
The death threat came after Will interviewed a woman about the mosque/Isalmic community center that was proposed to be built near Ground Zero, and defended practicing Muslims right to have a mosque/community center in the States, and then pointed out the many terrible things that have been done in this country under the guise of Christianity.
But the comment that is weighing on Will's mind the most was after an interview he had Sutton Wall, a black, gay, Republican campaign advisor to Rick Santorum, on the show. Will basically bullied Wall about the fact that Santorum should straight-up hate Wall because he's black and gay. It was a really, really horrifically degrading tirade that Will puts Wall through, and eventually Wall starting yelling at Will and telling him that he isn't defined by his gayness or blackness, and does *not* need Will to help him. (I fist-pumped.) But Will won't let it go, so he really sticks it to Wall. We learn during therapy that Will feels badly about this, mostly because he has become a friend to racists of all sorts everywhere because he made a respectable man look awful on television. So, for selfish reasons. Le sigh.
But, this is actually an important lesson for Will to learn, because it seems as if he's never considered the fact that he's a media bully before. (Also, the episode is all about media lessons. I mean, I guess every episode is about media lessons, but this one *really* is. It's basically an episode written about my Intro to Journalism class and all the things your professors tell you NOT to do.)
However, while Will was learning lessons, we all learned some very strange, expository things about Will:
His father was an abusive alcoholic
Will had been on a heavy concoction of anti-anxiety medications
When he found out that Mac was having Jim, Maggie, and Neal do opposition research on him so that they could better predict what might be the next tabloid fodder, he knew one particular piece of information (a deal memo for a show at FOX he was offered in 2006) would be outed. He also knew that Mac would freak out over this information because that was when they were still together, so HE HAD HIS AGENT GO TO TIFFANY AND BUY A 'YES'-INSPIRING RING so that he could prove to Mac that he was serious about her even though he wasn't. OMG Y'ALL. I JUST CAN'T WITH THIS. Even if he *did* tear up the receipt at the end. UGHHHHHH.
He had lasik.
He didn't finish the New York Marathon
He had TB scare
He is an accomplished guitarist who jams with Leonard Cohen. (AND WILL ALSO BE SINGING WITH JOHN GALLAGHER, JR. ON SOME FUTURE EPISODE OMG OMG OMG.)
He once got a C- in a class that he was mistakenly enrolled in
He contributed $250 to a Republican congressional candidate in Nebraska (This is how the younger staffers find out he's a registered Republican.)
And, finally, he was a speech writer for Bush 41.
The more you know.
Sloan and the Meltdown
The other major component of this episode involved Sloan, who *might* be my second favorite character on the show. Which is SAYING something, because up until this show, I have loathed Olivia Munn with every fiber of my being. Like, serious, crushing, inexplicable hatred seeping from every pore. I would hiss at people if they said her name around me. It was A Thing. But somehow, I've come to like her in this role, so maybe there is hope for me and Miss Munn yet.
Anyway, in this episode, Don needs Sloan to fill in for Elliot, who is at his kid's tonsilectomy or some shit like that. Sloan is hesitant to do a hard news show that has topics other than economics in it, but after it becomes clear that she is the only person available to do the show (and that she'll be wearing Gucci), she agrees.
So she goes to start the pre-interviews, one of which is an early report on the Fukushima nuclear reactor meltdown. Turns out, she knows the spokesman for TEPCO very well, and that she also speaks conversational Japanese. During the pre-interview, she learns off the record that Reactor 3 is at a Level 7, and not a Level 5 as her contact originally stated on the record.
Now, here's the thing about going "off the record." You're taught in journalism school to NEVER DO IT. In most situations, it will only tie your hands behind your back, unless somehow the information you're receiving will lead you to someone bigger. And even then you need the go-ahead from your editor—or in this case executive producer—who will most likely know who the source is, before you can officially offer an off the record conversation. All in all, it's a BIG DEAL that is often not allowed because of the legal ramifications.
So after Sloan has received off-the-record information, she goes to Will and asks for advice on how to get her contact—who only speaks Japanese—to reveal this information on the record during the show. Will tells Sloan that she is too easy on her guests and that she needs to push more.
AND BOY DOES SHE. During the interview, she accuses the translator of doing a poor job, breaks into Japanese, goes rogue by ripping her ear piece out, and then "translates" the information herself, saying that Reactor 3 is at a Level 7, even though her contact never said that on the air.
So then she gets yelled at by Charlie, who *really* rips her a new asshole. And also calls her "girl," much to my chagrin. But Sloan forcefully, yet politely, tells Charlie not to call her "girl." He still does, AND SO DOES WILL later on, when they're all trying to fix the situation after they learn that the TEPCO representative has resigned, which is a big fucking deal for a Japanese business man because it is dishonorable.
The solution Charlie comes up with to fix the whole thing and restore the man's honor, is for Sloan to go on air and apologize for saying that the reactor was a Level 7, EVEN THOUGH IT IS GOING TO BE REPORTED AS A LEVEL 7 LATER THAT NIGHT, and then say that she does not speak fluent Japanese EVEN THOUGH SHE DOES, and that she was confused because the words "four" and "seven" sound sort of, meaning not at all, alike in Japanese.
IT'S INFURIATING. And Mac, God bless her, points out the idiocy of what they're asking Sloan to do, but both Charlie and Will say that it's the only way to fix the situation, so Sloan agrees.
Will feels bad about this, because they all knowingly lied on air. Because obviously THAT is the biggest issue at hand.
Other Things
Lionel the Body Guard really, really needs to stay forever.
We learn that Jim got kicked out of his study abroad program for "fraternizing with indigenous peoples."
Don finally suspects that he's losing Maggie to Jim. I wonder if that Tiffany ring in Will's office will come into play.
Will gets his mild prescription for a sleeping pill. And also is told by the dude from 10 Things I Hate About You that he should continue going to therapy, and also, probably to Al Anon meetings.
Quotes
"I've already read that issue of Cat Fancy from cover to cover, and I'm saving American Stamp Collector for a plane ride."—Lionel the Body Guard, to Will
"The thing about the Internet is that it's a Populist tool."—Neil
"I'M GOING TO SINGLE-HANDEDLY FIX THE INTERNET."—Will, on forcing the Internet to be less anonymous by making his commenters fill out a crazy background check thingy.
"You thought the Russians invaded Atlanta?"—Jim, to Maggie when she explains that she confused Georgia the state with Georgia the nation. *headdesk*
Don:"If you want a wardrobe change after your 4:00, Gucci is sending over selections."
Sloan: "Gucci?"
Don:"A whole rack of Gucci."
Will: "What other bodies have you guarded?"
Lionel the Body Guard: "We don't talk about that. . . .  Kanye. It was *awesome*."
Maggie: "Jim got kicked out of a study abroad program and went to the Arctic Circle."
Jim: "I wanted to see the penguins."
*filler conversation goes here*
Maggie: "HE TRIED TO SCORE WITH AN ESKIMO."
So there you have it, folks. This episode was way more introspectively Will-centric than any of the others have been, and on an enjoyment scale, I was not having it. But I really loved seeing more Sloan and the introduction of Lionel.  AND THANK GOD Don is finally figuring out that Maggie and Jim need to be together. Except now that's surely going to be even more of An Issue. Harrumph.
And now that I'm finally done hogging the words and your time, please do tell me all of your thoughts and outrages and frustrations and LOL (IT MEANS LAUGH OUT LOUD, PEOPLE.)-worthy moments, in comments.
Tags: By Bethany, The Newsroom