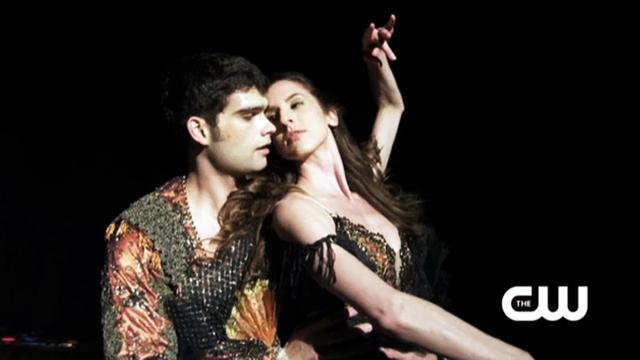 Hi, my name is Bethany and I am a ballet nerd.
I danced until it was time to go to college, and I knew that I'd never be a professional (I'm 5'1″ and have bad feet). But dance, particularly ballet, is still something that I love like crazy.
And I watch basically ever dance show EVER. (If you haven't watched Australia's Dance Academy, it is streaming on Netflix and you should GO NOW and marathon it.) So, obviously Breaking Pointe is right up my alley.
This CW reality show chronicles the life of several professional dancers in Salt Lake City's Ballet West, which is a mid-size company. And the first episode, "Survival of the Fittest," introduced us to the people we'll be following this season and taught us all about contracts.
1. Beckanne Sisk, 19
From the first episode, it is CLEAR that this girl is the most talented young ballerina they have. (Well, that we've seen. I'm sure everyone in the company is great.) She's lovely and has a lightness to her dancing that can't really be taught. (That sounds stupid, but it's true.)
In this episode, she was offered a Ballet West contract and promoted to a demi-soloist, which everyone made a huge deal out of, but, really, isn't unheard of. There are 19 and 20 year-olds that are principles at New York City Ballet and American Ballet Theater just offered a company contract to a 15-year-old. And don't even get me started on the European companies. They are BONKERS with their young dancers. Anyway. She is great and I'm pretty sure she's my favorite right now, because she seems focused and balanced and professional.
2. Ronald and Rex Tilton, 19 and 24
These are (Mormon? They have to be Mormon, right?!) brothers who are both dancing with Ballet West, and who both also have girlfriends in the company. Well, Ronald, who has some serious Edward Cullen hair going on, has a girlfriend, and Rex has a . . . conquest? I don't know. But he is a Stage 5 Clinger and needs to be punched in the balls.
Ronald is offered a contract and promoted from an apprentice (which is sort of like being an intern in a ballet company) to a corps de ballet member, and Rex is a third-year demi-soloist.
3. Allison DeBona, 28
So, this is Rex's friend thing. She is frustrated with her position in the company (I think she's a soloist?) and desperately wants to be promoted to principle. Which is completely understandable on a professional level and I totally get that.
What I don't understand is 1) why she would mess around with a 24-year-old, 2) why she is stringing him along, and 3) why she doesn't punch him in the balls. I mean, the poor deranged kid told her he loves her and she was like, "I told you I'm not gonna deal with you when you're being crazy." And she won't even call him her boyfriend. So we know where her priorities are and he needs to just stop. Ugh.
4. Ronnie Underwood, 30
So this dude thinks he's Cooper Nielsen from Center Stage. He wears a leather jacket and rides a motorcycle and has tattoos and calls himself a "gearhead." He's jacked and wears bandanas in class. I haven't really seen him dance yet, so I have zero idea if he's talented, but let's assume he is.
His predicament is that he's a first soloist and that he wants to be promoted to principle. Which is fair. So when he gets his contract, he is happy that he's getting more money, but upset with the his company position. And that is all I know about Ronnie.
But might I add: Ugh, there is a Ronnie and Ronald. Why do people still name their kids those names? I MEAN, SRSLY.
5. Christiana Bennett, 32
Christiana is a principle dancer and has been with Ballet West since she was 19. While everyone else is freaking out about finding out if their contracts are renewed (they are contracted for a yearly basis), she's sitting pretty because she's the prima ballerina of the company and thus gets two-year contracts AND very advance notice if her contract is not going to be renewed.
Christiana is angular and has a very classic-face, although she needs to cut back on the eyebrow waxing and arching. And though she has a very classical look, I didn't think her dancing was anything to write home about. I mean, she's good, but I don't think she's as dynamic as, say, Beckanne. And definitely not as good as, like, Tiler Peck (who is 22) of NYCB, for example.
6. Katie Martin, 23
And then we have Miss Katie, who is absolutely adorable and the girlfriend of Ronald. Again, WHY is she dating a dude who is 19?! There is absolutely zero chance I would have dated a 19-year-old at 23. But, ballet is a weird world and typically the dancers are very sheltered and thus a little immature, which I think is very obvious from this show. ANYWAY. Katie is besties with Beckanne, and despite the producer-fed conversations I think they are actually friends and have a really natural chemistry.
But sadly for Katie, she is not offered a contract renewal at Ballet West (However, she's still listed as part of Ballet West II. So, maybe they haven't updated thier website?). So now she has to go out and audition at other, most likely, smaller companies to get a job. Adam Sklute, the company's artistic director, offers to write recommendation letters and make calls to the companies she is auditioning for, but GEEZ HOW AWKWARD IS THAT?! "Hi, this is Adam, this dancer I fired because I don't think she's strong enough is auditioning for your company today and you should TOTALLY take her." Ugh.
Anyway, the big question, I guess, is if Ronald is going to give up his contract with Ballet West to go and audition with her. And while Ronald is ALSO a Stage 5 Clinger, I feel better about him since Katie is actually his girlfriend and it's sort of sweet, if idiotic, that he wants to be with her. I like when guys like their girlfriends.
So those are the cast members. I'm shocked that there isn't a principle male dancer involved. Maybe none of them wanted to be involve with the show? Because at one point Rex, a demi-soloist, was partnering Christiana, the prima, and I was all, "THERE IS NO WAY THAT WOULD HAPPEN." But maybe because this is a mid-size company, there is a way that would happen. *shrugs*
Anyway. I was a little annoyed that there was so much TALKING and producer-fed conversations happening in this episode. I don't want them to talk, I want them to dance. DANCE, MONKEYS, DANCE. But whatever. It's the first episode. And I'm actually glad that they talked about the reality of contracts and economics and how fleeting a career in dance can be. I just wish there had been more dancing.
So, in my perfect world, there will be fewer The Hills-esque chats in coffee shops and more time in the rehearsal studio. We shall see what the next episode brings us!
So now that you've heard my thoughts, please do tell me all of yours in comments!
Tags: Breaking Pointe, By Bethany